Investment Outlook 2019
Our Global Chief Strategist and CIOs give their views on the environment and markets, and their outlook for the year ahead
05 December 2018
Message from our Global CIO
Chris Cheetham, Global Chief Investment Officer, HSBC Global Asset Management
I hope you enjoy reading our latest investment outlook.
In this edition my colleagues review economic and market performance this year and take a look at the prospects for 2019.
As our Global Chief Strategist Joseph Little says, 2018 has been a disappointing year for investors, but after the outstanding returns we enjoyed in the Goldilocks environment of 2017 perhaps this was inevitable. Markets began this year with the valuation arithmetic taut, but not excessive, while the economic news flow has been a little disappointing rather than poor.
In general, markets move based on how events turn out relative to what was discounted, and if this year's starting point left little margin for error, opening the way for market weakness, then the question for 2019 is simply: 'how might economic events evolve relative to what is discounted now?'
There are a number of risks in the economic outlook, and some important uncertainties. Moreover, having enjoyed a period of synchronised growth from late 2016 to early 2018, the global economy has clearly lost some of its vigour this year. Nevertheless, based on HSBC Global Asset Management's global 'Nowcast', a real-time measure of economic activity developed by our analysts, having been well above trend at the beginning of the year, global growth now appears to have reverted to the average of the last five years. This is hardly cause for 'doom and gloom' and, not least since the probability of recession looks low, it might be argued that we are simply returning to a more normal environment.
This relatively sanguine view of the outlook is reinforced by the performance of the corporate sector. Company fundamentals have remained largely unaffected by the 'noise' around the macro- economic news flow, with both corporate profitability and default rates evolving relatively favourably. This is important, because the weakness in markets this year means that they are now discounting a more subdued and difficult environment than was the case twelve months ago.
Taken together, the return to a normal economic environment, combined with healthier valuations, should mean that financial markets, and especially global equities, deliver positive returns in 2019. My colleagues will discuss this view in more detail, but in essence we prefer equities over bonds and favour emerging markets.
Unfortunately, the outlook is not without risk. Perhaps not surprisingly, our major concern is that we see a continuation of some of this year's challenges with strong growth in the US, leading to higher than expected inflation and, in turn, higher than expected interest rates, the most important uncertainty. This risk is not easy to diversify, but it will be important to enter 2019 with a balanced portfolio and this should help investors 'ride out' any noise.
Finally, I am reminded of the story of the tortoise and the hare. It is unlikely that investment returns will be stellar next year so it won't be possible to run very quickly. However, the market correction this year should mean that patient investors can expect to achieve steady returns in the medium to long-term.
Chris Cheetham
Global CIO
---
Macro and multi-asset outlook
Joe Little, Global Chief Strategist
How have major asset classes performed in 2018?
2018 has been a disappointing year for investors. After the stellar investment returns of 2017, perhaps it was always likely to feel this way. As the Goldilocks economic environment of 2017 gave way to a more difficult situation from around February, a series of volatility waves damaged asset class returns. In fact, of the main asset classes, only US equities and the dollar have recorded gains in 2018. Other asset classes are either flat or have delivered negative returns. Performance has been most disappointing in emerging markets – local currency debt is down by high-single digits while emerging-market equities are down by double digits this year (albeit with significant regional variations).
Even traditional diversifiers performed poorly, meaning typical sources of portfolio protection were ineffective. For example, US treasuries have delivered negative returns overall and sold off alongside equities during the market episodes of February and October.
Figure 1: Asset-class performance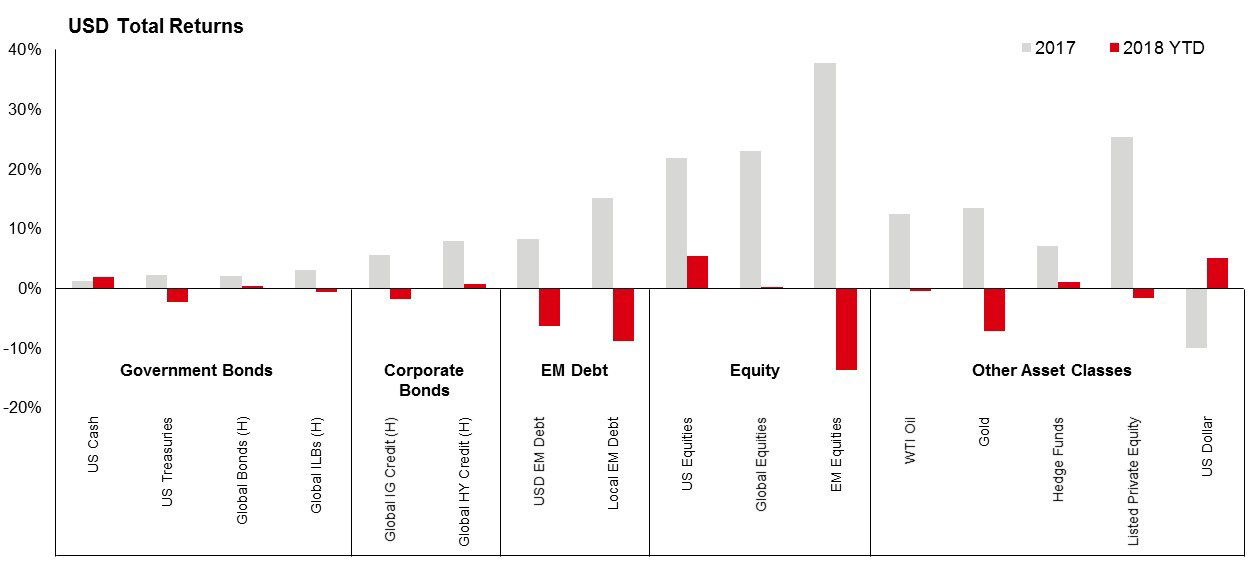 Source: HSBC Global Asset Management and Bloomberg. Data as of November 2018.
Past performance is not a guarantee of future performance.
A lot of what occurred in 2018 was linked to changes in the market narrative rather than to decisive shifts in macroeconomic fundamentals. From inflation fears to trade tensions, geopolitics, Brexit, and political uncertainty in Europe, a lot has been going on.
This year, the global economy has essentially been characterised by "cyclical divergence". After a phase of synchronised global growth in 2017, this year has seen US economic leadership contrasting with a slower pace in the rest of the world. This strength in US growth – and policy tightening from the US Federal Reserve (Fed) – forced market participants to significantly reassess their view of the interest-rate cycle. US two-year bond yields have doubled over the last twelve months. This shift, alongside apparent growth weakness in the rest of the world, has put significant pressure on the dollar to appreciate.
For Asia and emerging markets, this combination of strong US growth, abrupt US dollar appreciation, as well as higher oil prices and some idiosyncratic problems in parts of emerging markets created a "perfect storm" of macro risks. By the third quarter, it seemed as if everything was going wrong for emerging markets, and investors speculated that these markets had entered a "doom loop" – a vicious cycle of falling asset prices and deteriorating fundamentals.
To make matters worse, in early Q4 financial markets began to revise their view, not just of short-term Fed interest rates, but also of longer-term real US interest rates, triggering further losses for long-duration asset classes like equities.
After the phase of synchronised global growth from late 2016 to early 2018, the global economy has lost some vigour. According to our global Nowcast (a real-time measure of economic activity), after being well-above trend at the start of 2018, global growth is now back to its average rate of the last five years. This is hardly a disaster, and we think the probability of recession still looks low, but it does mean that, as we approach 2019, the economic system is moving "back to reality".
The main reason for this shift in growth rates is a change in the direction of policy. Major central banks are exiting the highly-accommodative policy stance one of recent years. The US, in particular, is likely to return policy to neutral during 2019, helping ease US growth from its current unsustainable pace. Other central banks are further behind, but the direction of travel is clear, with the European Central Bank (ECB) expected to end its net asset purchases in December and the Bank of England already raising rates. The only notable outlier is China, where policy easing should support economic activity.
Meanwhile, global inflation is creeping higher but remains contained, with a few exceptions in emerging economies. In 2019, we expect price pressures to build gradually in the major economies: even ten years after the financial crisis, upside risks to inflation are still only really evident in the US.
Figure 2: US growth outperformance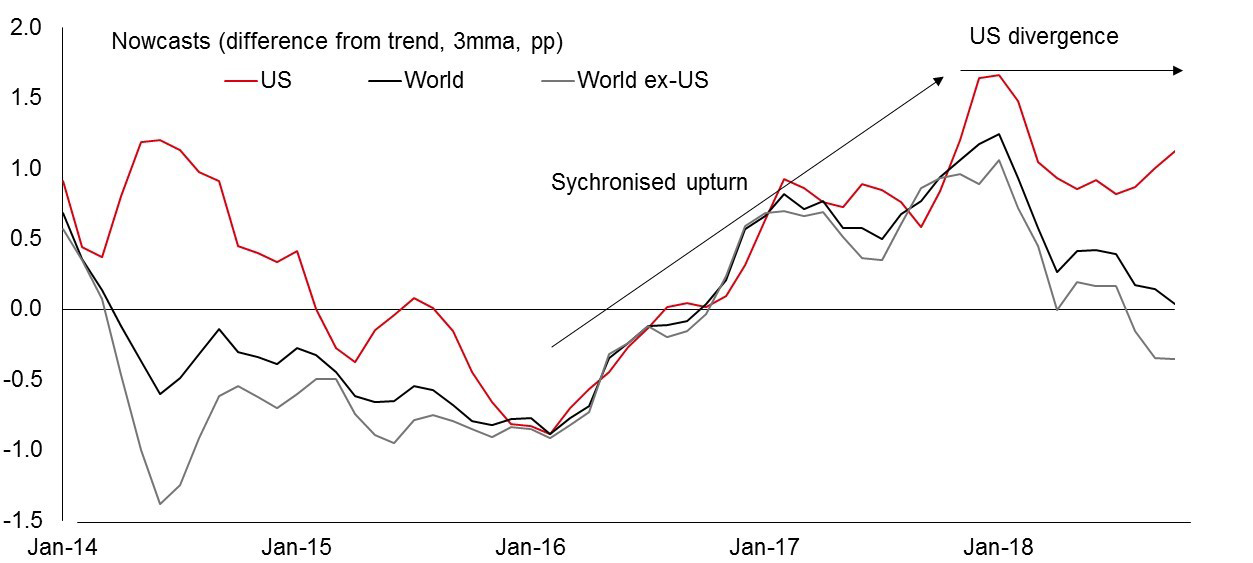 Source: HSBC Global Asset Management. Data as of November 2018.
Past performance is not a guarantee of future performance.
Why can't the US continue to outperform?
The key driver of US economic outperformance in 2018 was President Trump's expansionary fiscal policy, but this growth boost is likely to fade significantly next year. We estimate a growth boost of around +30bp in 2019, after +1% in 2018.
The US economy is therefore set to slow from a strong starting point of well-above-trend growth to a more average pace by the second half of 2019, accompanied by a gradual rise in core inflation. If this outlook materialised, the Fed would probably largely follow through on its current projections of around 100bp of hikes between now and end-2019, which can best be described as a policy return to neutral rather than outright restrictive. Crucially, market pricing is closer to the Fed's scenario than it was at the start of 2018.
Figure 3: Where is neutral for monetary policy?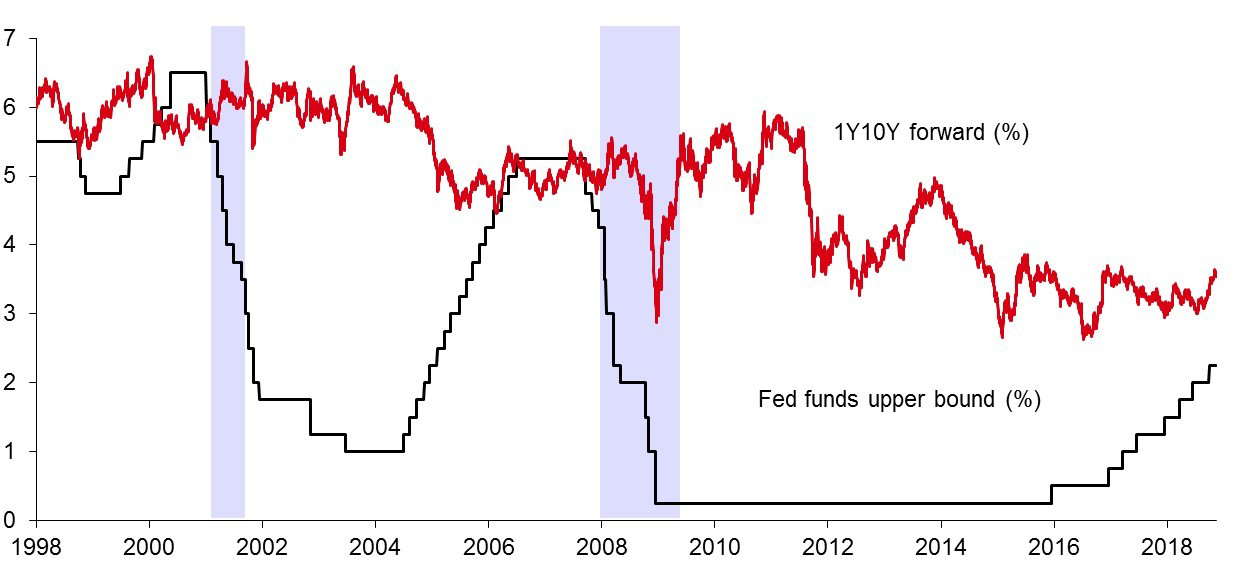 Source: Macrobond and HSBC Global Asset Management. Data as of November 2018.
And can China continue its delicate balancing act?
The uncertainty around the Chinese macro outlook is high at present. Earlier in 2018, growth clearly slowed as a result of much weaker infrastructure investment. The authorities reacted quickly and eased policy. This appears to have stabilised the situation for now, but the ultimate effects of these measures on the economy remain to be seen.
Looser financial and monetary conditions should result in solid growth but, given the high debt levels in the corporate sector, there are concerns that monetary policy may not be as effective as in the past. High levels of debt are also a constraint on the amount of loosening the authorities will be willing to use to engineer an upturn. Having worked hard to slow the pace of debt accumulation and rein in financial risks, they will not want to move backwards by reflating the debt bubble. They are still aiming to strike a balance between maintaining growth and limiting financial threats.
Are we past the worst in emerging economies?
Emerging economies slowed markedly during 2018, which gave rise to the feared "doom loop" dynamics described above. However, investor concerns have calmed materially since August and September. To a large extent, the truly interesting economic story this year has been the amount of "cyclical divergence" between countries – and even within the emerging economies. The market has recognised this, and there is a clear correlation between the worst-performing currencies and the worst-performing economies.
As to what comes next, much will depend on what happens to both US rates and Chinese growth. Interestingly, emerging-market fundamentals may now improve as China economic data stabilises and financial markets calm down. A few emerging economies have seen a surge in inflation following currency weakness, but most are only experiencing gradual increases in core inflation, from historically-low levels. Importantly, the currency depreciation also seems to have gone far enough to stabilise the external position of crisis-hit economies.
Does growth look sustainable in Europe?
A year ago, the eurozone was booming. Growth was running well above trend and faster than in the US. However, the European economy has lost significant momentum in 2018. In part, the slowdown simply reflects the fact that the economy was growing unsustainably fast. All the stars had aligned to favour growth through 2017, with the ECB expanding its balance sheet at a rapid pace, the oil price relatively low in the first half of the year, China growing strongly and the US re-accelerating. Of these, the only support remaining through 2018 was strong US growth.
The loss of momentum has been most concentrated in the manufacturing sector, which is more sensitive to global growth and the oil price. However, for 2019 there is an increasing risk that the service sector might also slow. For example, narrow money growth, which tends to lead service-sector and domestic-demand growth in the eurozone, has weakened as the ECB has reduced its pace of asset purchases.
From an asset allocation perspective, what does this mean for your fixed income views?
In 2018, we have seen a significant re-pricing of US fixed income assets. Our measure of the US "bond risk premium" (the future reward for owning bonds over cash) has increased during the year and is now slightly positive, while we think short-duration US bonds now offer attractive risk-adjusted prospective returns. Outside of the US, the risk premium on global government bonds remains very negative.
From an asset allocation perspective, our portfolios should reflect this shift in the market odds. On balance, we are still inclined to be underweight duration on a global basis, but relative to our position last year, our overall portfolio duration should increase. In global rates, we have a preference for US Treasuries, and we favour the short-end and the belly of the curve. Perhaps our clearest current preference is for a relative-value trade between more attractive US Treasuries and very expensive German Bunds.
In addition, looking at short-duration parts of US rates and US credits in particular, we find that many traditionally perceived safe haven asset classes are now offering much better carry than in previous years. This shift in pricing allows us to build portfolio resilience by adding some shock-absorbing and diversifying fixed income asset classes to our multi-asset portfolios: we think this is a good hedge in case the macro landscape evolves less favourably than we expect.
Have we not already entered a bond bear market?
A number of market commentators expect a rapid further expansion in US bond yields, to 4% or higher. Whilst this could happen, it isn't our working assumption, for several reasons.
First, it took more than a year for long bond yields to go from 2% to 3% (currently 3.2%) and, over this time period (since September 2017), we saw a lot of fundamental change – improving economic growth, receding deflation worries, a build-up of cyclical inflation, and faster rate hikes from the Fed. In 2019, we think the US is going "back to reality", with growth and inflation more in line with their long-term trend, and policy in a more neutral gear.
Second, much of what happened in bond markets in Q4 stemmed from rising real interest rates rather than inflation. Market expectations for real interest rates shifted very quickly over a relatively short period of time. Meanwhile, based on our economic scenario, a big jump in inflation seems unlikely. There is US cyclical inflation, but it is developing only gradually.
Therefore, a bond bear market is not our base case, but a major shift in market psychology about inflation would present a significant risk.
What are your views on risk asset classes?
It is not a straightforward environment for risk asset classes.
Market participants are currently very focused on recession risk and growth concerns. In reality, we believe that the business cycle does not run on a clock, and that we are not destined for an immediate economic slowdown. Macro and corporate fundamentals look rather good, as does the prospect for sustained good earnings and low default rates.
To us, this means that where valuations remain sound, there is an opportunity to "back growth at a reasonable price". We prefer to do this through global equities rather than global credits, although we think that credits have become a bit more attractive. For us, current valuations imply that we should now focus our tactical risk budget on Asian equities and emerging market equities.
Figure 4: "Pecking order" of asset classes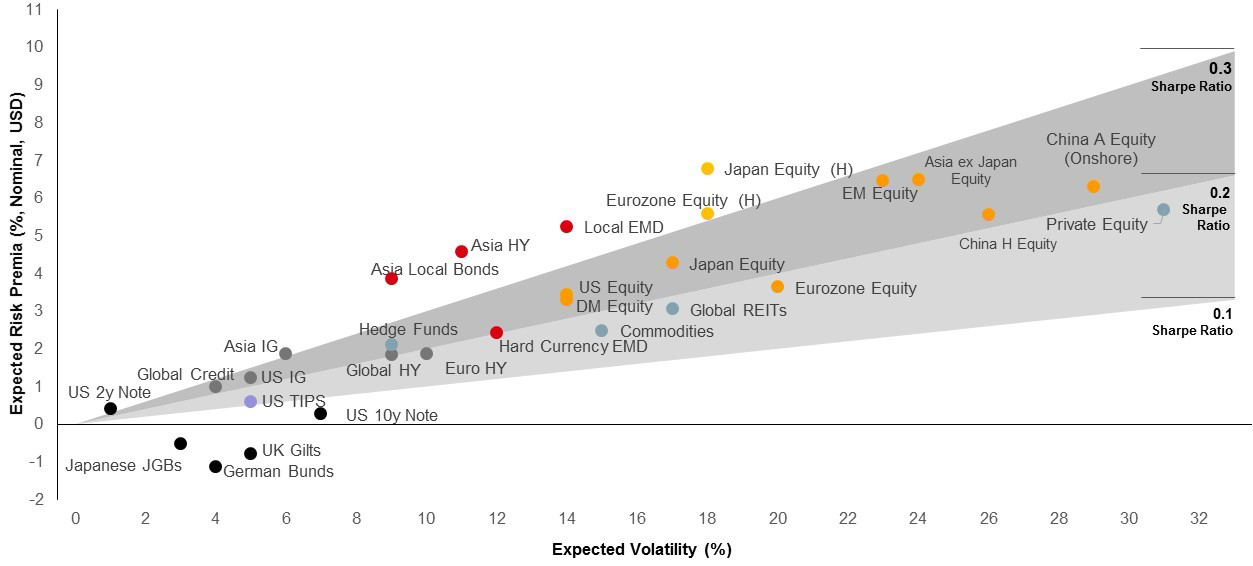 Global Fixed Income assets are shown hedged to USD. Local EM debt, Equity and Alternative assets are shown unhedged.
Source: Bloomberg, HSBC Global Asset Management. Data as of November 2018.
What does this mean for the dollar in 2019?
After what happened in financial markets this year, we are focusing on two dollar exchange rates – one against major currencies, and the other against emerging-market currencies.
The US dollar versus majors appreciated in 2018 as a consequence of "cyclical divergence", whilst in emerging markets we saw a more abrupt "dollar shock" (a rapid appreciation of the dollar), with emerging-market currencies underperforming from April to August.
At this stage, we think a further "dollar shock" seems unlikely. Economic divergence is reaching its peak, the US economy is going back to reality, and market expectations for the Fed are far less complacent than at the start of 2018. As a result, we take a neutral view on the dollar against the majors.
The scenario is slightly different for emerging-market currencies. After significant price weakness, emerging-market inflation-adjusted exchange rates are now at extreme valuations, and prospective returns look high. Of course, given what unfolded in 2018, there is plenty of reason to be gloomy on EM economies but, in our view, these risks are now well-priced. We think the balance of risks is leaning significantly toward strong emerging-market currency performance against the dollar in 2019.
What are the key risks to your outlook?
As always, much can happen to challenge our baseline scenario in 2019.
The front of mind risk remains overheating in the US and faster than expected inflation. That this hasn't already happened is surprising to the economists. Yet inflation trends remain subdued. Statistically speaking, inflation trends tend to build gradually. This could mean the risk will become more pronounced beyond 2019, but it is nevertheless an important scenario for investors to keep in view because it would force the Fed to raise rates further and faster, and it would require a significant re-pricing of US bonds. After an already strong performance of the dollar in 2018, it's not obvious to see which asset class could be a "safe haven" for multi-asset investors under this scenario.
The other notable risk in our view is a sustained cyclical slowdown in China, linked to potentially escalating trade tensions. If President Trump extended US tariffs to cover most imports from China at a rate of 25%, Chinese growth could suffer a meaningful slowdown. Other Asian economies – particularly South Korea and Taiwan – could be caught in the cross-fire given their large trade exposures to both the US and China. The comforting news is that this risk is by now well-known to market participants, and at least partly reflected in pricing.
There are a number of other risks as well – including ongoing political uncertainty in Europe, and upside risks from stronger corporate capital spending and wage-driven consumer spending growth. As always, our strategy is to remain vigilant and to adapt our portfolios accordingly.
Global equities outlook
Bill Maldonado, Global CIO Equities, CIO Asia Pacific
Can you give us an overview of global equity markets in 2018?
2018 has been a very challenging year for equity investors. The year started off strongly with a continuation of the "Goldilocks" scenario, characterised by synchronised global growth, low inflation and low rates, thus creating a backdrop that was still very supportive of risk assets. But the tide turned towards the end of the first quarter, with equity markets, particularly in the emerging economies, falling victim to geopolitical and macroeconomic concerns. As Joseph Little noted, much of the newsflow during the year was driven by the strength in the US economy and the policy tightening by the Federal Reserve; but other narratives such as escalating trade tensions between major world economies, market events in key emerging economies and a sharp increase in crude oil prices have also very much played on investors' minds.
Whilst many of these concerns did not manifest in 2018 nor pan out in the way investors feared they would, they have nevertheless been key drivers of investment returns. It is evident that a majority of global equity investors have been focused on the geopolitical and macroeconomic uncertainties, side-lining fundamentals which have actually held up well through the year. Company fundamentals, in particular, have remained largely unaffected by the noise around macro concerns and geopolitical events, with corporate profits still on an improving trend in most major markets.
We think the outlook for global equities is quite positive for 2019. What we saw happen through 2018 was a tug-of-war between macro risks and equity fundamentals, and although fundamentals – such as corporate profitability and defaults – have been favourable, the risk factors seem to have won, as reflected by investors' behaviour. Yet there are reasons to believe that the situation might reverse in 2019. First, fundamentals have gotten stronger because equities are now less expensive and more profitable almost everywhere around the world. In addition, some of the macro factors by which investors have been so absorbed seem likely to be less of a focus going into 2019.
While equities across the board have corrected in 2018, we see a number of interesting opportunities in some emerging markets in particular, which we think offer great value. On a fundamental basis, we believe emerging markets compare favourably against developed markets, and particularly against the United States. Yet it is important to note that "emerging markets" present significant diversity in terms of economic and market conditions.
Whilst none of the key emerging markets were immune to the "dollar shock" or other major global market events through 2018, we have seen a fair amount of cyclical divergence from one emerging economy to the next, particularly in terms of growth and inflation. The emerging markets we favour are those where companies in various key sectors and industries have remained resilient and have, in fact, performed strongly – with profitability on the rise and valuations looking significantly cheaper following the indiscriminate sell-off in 2018.
Amongst those, we would highlight China in particular, which has been in the eye of the storm for most of the year. Chinese equities have been weighed down by trade tensions between the US and China resulting in a series of tit-for-tat tariff increases in 2018, and in fears for growth amidst the country's ongoing deleveraging programme. Despite these concerns, we believe that, overall, the Chinese economy has held up better than expected, belying predictions that a clampdown on the riskier types of financing and a flurry of measures to cool heated home prices would be a drag on economic output. Going into 2019, as these concerns recede, we expect some of this fundamental value to be released, which could set the stage for a strong comeback of Chinese stocks.
Chinese equity markets are also likely to stay in the spotlight in 2019 with MSCI looking to bump up the inclusion factor for A-shares in its MSCI Emerging Markets index from 5% at present to 20% in August 2019, and to include mid-cap A-shares using a similar inclusion factor in May 2020. Separately, global index provider FTSE Russell said it will start including mainland Chinese shares in its major benchmarks from June next year.
Figure 5: China's weight in the MSCI EM index on the rise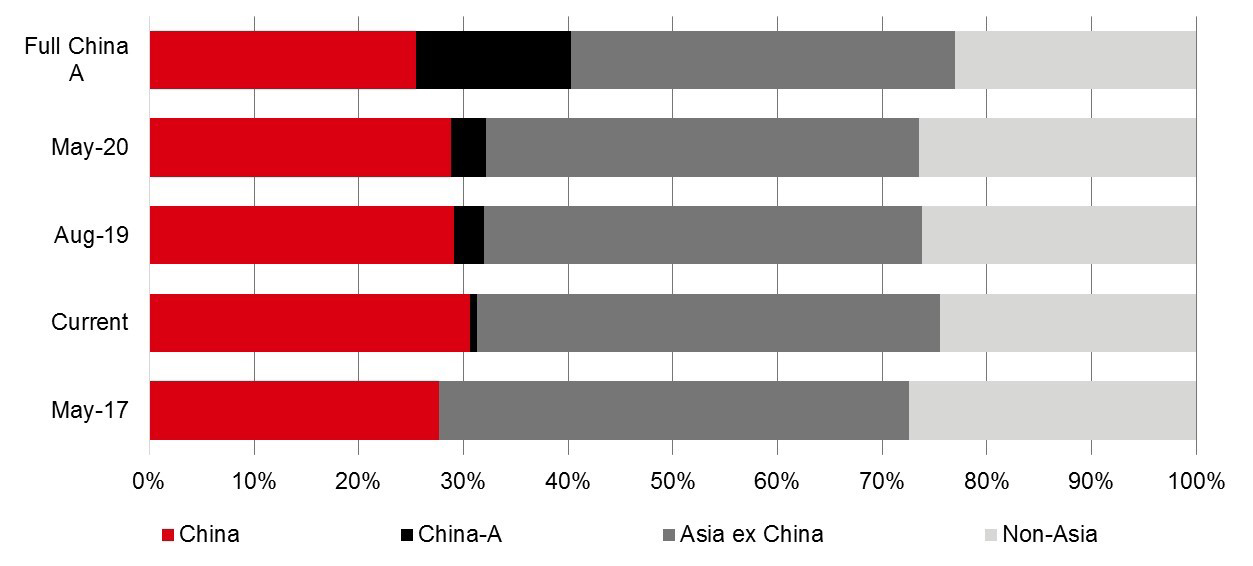 Source: MSCI. Data as of September 2018. For "Non-Asia", Saudi Arabia to be included in June 2019.
We also want to mention the broader Asia-Pacific ex Japan equity market, as it continues to trade at a significant discount to other global markets. On price-to-book terms, the discount is 34% versus developed markets as of end October; this is significantly larger than the long-term average discount (since 1996) of 23%. Meanwhile, the earnings growth forecast for the region remains healthy, at 13% for 2018 and 11% for 2019. In addition, after hitting a low point in 2016, return on equity (ROE) for Asian equities has largely recovered, a factor which is often overlooked. A number of important catalysts have driven this recovery, including higher profit margins and industry consolidation. The ROE of Asia-Pacific ex Japan equities currently stands at 12.1% and the improvement has been broad-based, with increases across China, Australia, India, Korea, Malaysia and other markets. Moreover, helped by prudent and proactive policies and better macro fundamentals, regional economies have stayed resilient in the midst of an increasingly challenging external environment for emerging markets.
Elsewhere around the world, we continue to favour Europe and Japan. Being late-cycle markets, they have not fared particularly well either this year, despite improving corporate earnings and inexpensive valuations, so for discerning investors driven by fundamentals, we believe they can offer some compelling investment opportunities in 2019.
Figure 6: Asia ex Japan ROEs improving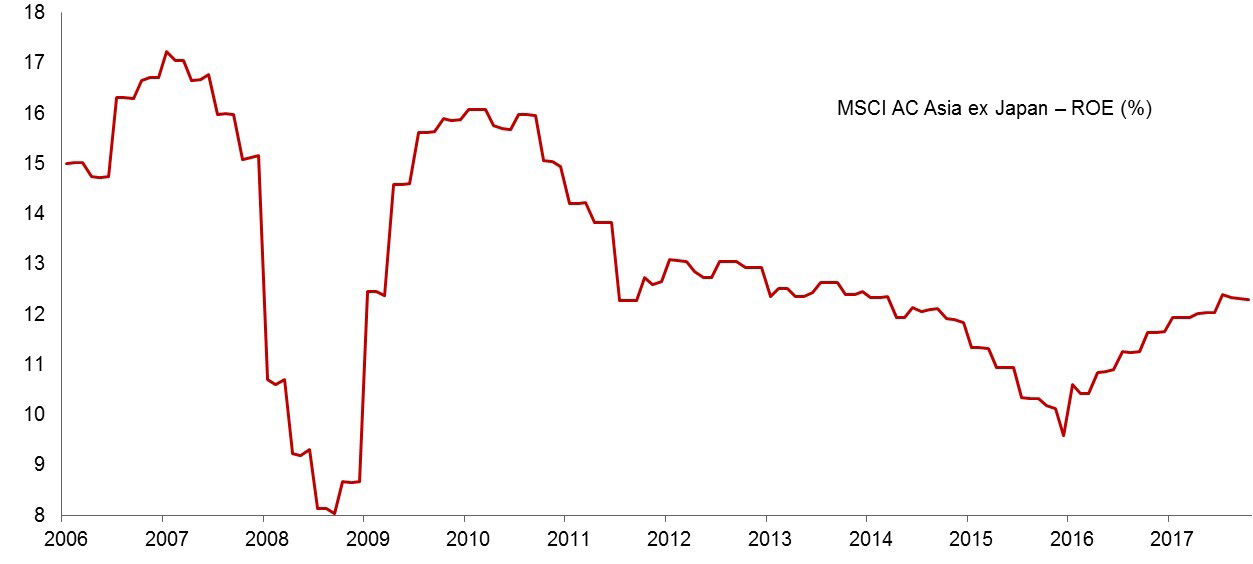 Source: MSCI, Bloomberg. Data as of September 2018.
Past performance is not an indication of future performance.
The key risk for our scenario in 2019 is the macroeconomic cycle, with a firm focus on the Fed and its future actions. If the Fed remains prudent and continues to act in lockstep with the US economy, then we think this risk is unlikely to pose a significant threat to global equity markets. We will however continue monitoring the situation closely.
Geopolitical risks are always very difficult to assess but we expect US-China trade tensions, which have dominated investor sentiment in 2018, to abate. Asia in general, and China in particular, were sideswiped by concerns around trade disputes through 2018, as markets corrected despite the limited direct economic impact of the tariff measures (the share of affected exports relative to GDP is fairly modest for both the US and China). Therefore, an easing of tensions would be supportive for the regions, particularly as much of the risk has been priced in, and investors are currently discounting the policy firepower available to authorities in both countries, should the situation worsen. By the same token, any resolution or resumption of official talks may boost market sentiment. Nevertheless, we do expect trade tensions to remain an overhang on the market.
Global fixed income outlook
Xavier Baraton, Global CIO Fixed Income and Alternatives; CIO North America
How has the environment impacted fixed income assets in 2018?
In contrast to 2016 and 2017, bond markets have posted negative returns so far this year, with rare exceptions such as US high-yield segments. Returns varied from low negative single-digits for US Treasuries or European and US investment-grade corporate bonds, to high negative single-digits for emerging-market local debt, which suffered from rising local rates and the depreciation of currencies.
This lacklustre performance reflects the sharp move in the business and market context, away from the perfect monetary and economic conditions of Goldilocks from which we still benefitted at the beginning of the year. In the course of 2018, we shifted to a market environment marked by plateauing economic growth, escalating trade tensions, particularly between the US and China, and a move back towards neutral monetary policy across the US and Europe.
The latter – the move back towards neutral policy – has been the main cause for volatility this year: the European Central Bank is expected to end its Asset Purchase Programme in December, whilst the Federal Reserve tightened policy with several rate rises. In doing so, it responded with discipline to a robust US economy, and steadily rising wages and core inflation numbers. In this context of market vulnerability, volatility has spiked episodically, also revealing markets' sensitivity to inherent geopolitical risks, best illustrated in Europe by Brexit and Italy.
Meanwhile, emerging-market debt has suffered from the sharp depreciation of emerging-market currencies as a result of a rising US dollar, but also in reaction to trade tensions. These revealed a funding dependency for certain countries with significant current-account deficits such as South Africa, in conjunction with some political uncertainty in Brazil or Mexico. Later in the second half of 2018, emerging markets also faced a modest economic deceleration, which further contributed to the increase in emerging-market debt risk premiums.
Figure 7: Emerging market versus developed market spread differential (bps)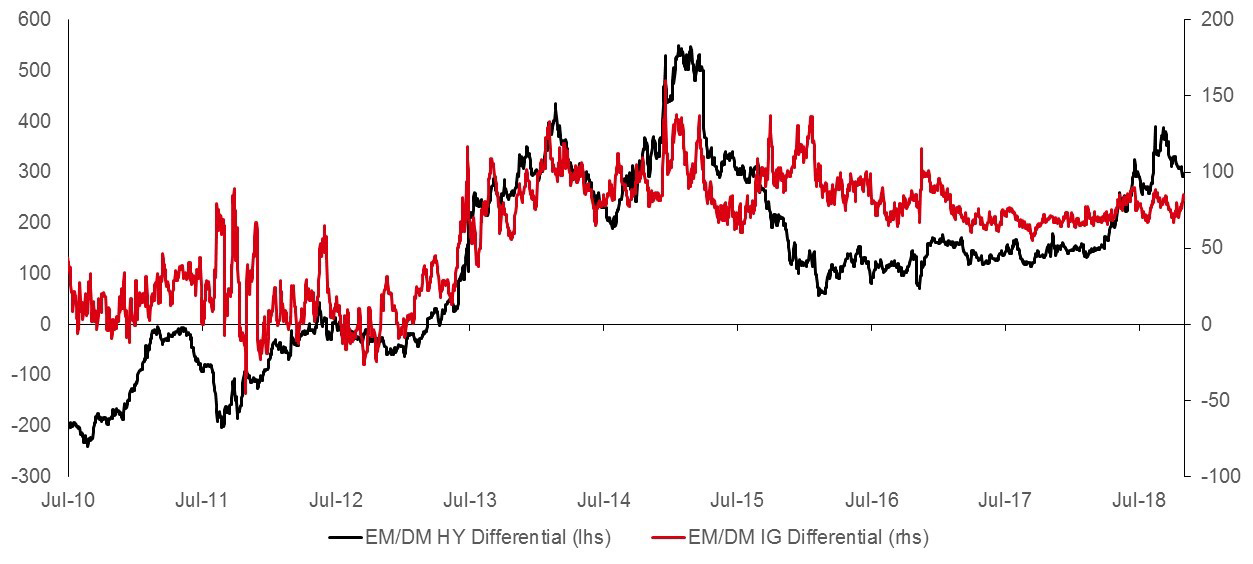 Source: HSBC Global Asset Management, Barclays US Corporate HY index, Barclays USD Liquid Investment Grade Corporate Index, JPM EMBI Global IG Index, JPM EMBI Global HY Index. Data as of 31 October 2018.
Past performance is not a guarantee of future performance.
Whilst we expect the global context to move "back to reality", as expressed in Joseph Little's article, we believe this could become more favourable for global bonds, for three main reasons.
Firstly, the US economy is set to slow to a more average pace of growth by the second half of 2019. In addition, the fiscal stimulus will begin to lose some steam, and further stimulus is unlikely to gain support following the mid-term elections. As a result, though we continue to see inflationary pressures as a main risk to our scenario, political gridlock could help mitigate some of our concerns.
Secondly, we think global economic risks should not grow further, for several reasons. Despite some warning signs, we have not yet reached the end of the global economic cycle. Therefore, although idiosyncratic risks may continue to cause episodic volatility – in high-yield markets notably – we don't expect global risks to escalate further. In other words, leverage is high but should remain stable and default rates should only creep up steadily. Similarly, we believe that, although trade tensions will probably continue into next year, following the US mid-term elections, and as the Trump administration edges into the second half of its term, it may see greater benefit in presenting successes on this front.
The third positive for global bond markets in 2019 is that valuations have adjusted across most segments. As an illustration, US real yields are now close to 1% in the long end, and credit spreads, notably in US and European high-yield, have widened, offering better compensation for a possible deterioration of credit quality. Emerging-market debt risk premiums have also significantly increased, as reflected by the aforementioned lower currencies, and higher term premiums and spreads on the US dollar market.
Whilst we anticipate that, in these conditions, volatility should remain substantial, we expect fixed income markets to post positive total returns in 2019.
How does this affect your views on rates and credit?
On the government bond side, we see little value in Europe, where the ECB pulling liquidity out of markets will put pressure on rates.
Meanwhile, we are neutral on US Treasuries, where we think the carry and roll-down should offset some further increases in the short and the long end of the curve.
In credit, we are cautious with high-yield as we turn into 2019, as technicals and market sentiment remain mixed. However, as a result of better valuations and with stable fundamentals, we expect flows to return to positive as we go into the new year. However, we are paying particular attention to how this segment behaves: as we progress through the credit cycle, we believe that the most-leveraged issuers will come under increasing pressure. This should be supportive of our preference for BB-B names, as well as our careful selection process in terms of issuers and industries.
What about emerging markets
With regards to emerging-market debt, for 2019 we return to a constructive, albeit selective, view, with a preference for local debt and hard-currency sovereign debt. In terms of emerging-market regions, our preference is for Asia, which we believe offers particularly attractive valuation levels reflecting investors' concerns around the risk of Chinese economic growth decelerating more significantly. Whilst a pronounced Chinese deceleration does present a key risk to our scenario, we expect Chinese authorities to use budgetary and monetary measures to support growth – even though it may take some time for their effects to be felt.
Finally, we think country selection will be of paramount importance next year in emerging markets, particularly on local debt, where individual vulnerabilities and external dependencies will continue to be a major driver of currency movements and future returns.
What are the opportunities you see?
Next year, we are seeing key opportunities across markets. Thanks to curves having adjusted and flattened this year – the short end having typically risen more substantially than the long end – we are finding a number of short-duration segments particularly attractive. For instance, we are constructive on US investment grade and US high yield. In Europe, we are seeing opportunities in euro-periphery sovereigns such as Spain or Italy.
What are the main risks to your central scenario?
Financial markets continue to iterate between upside and downside risks, as the global economy steadily progresses in the cycle, central banks normalise their monetary policies and markets continue to face secular headwinds such as ageing populations, global deleveraging and the environmental transition. Meanwhile, geopolitical risks will continue to cast their shadow over financial markets.
In addition, we believe there are two main risks to our central scenario, to which we will pay particular attention: pronounced deceleration in the Chinese economy, which we believe is probably the greater risk to our scenario; and the possibility of a sudden spike in inflation in the US, which could put more intense pressure on the Fed, and on the long end of the curve.
Global alternatives outlook
Xavier Baraton, Global CIO Fixed Income and Alternatives; CIO North America
How did alternatives do in 2018?
In a context of decompression of risk premiums and generally negative returns for bond and equity markets, alternatives were overall better behaved than traditional markets in 2018. Whilst posting mixed returns, hedge funds nevertheless delivered diversification benefits. Meanwhile, private markets and real estate performed well, enjoying continued – albeit more selective – inflows.
Global liquidity outlook
Jonathan Curry, Global CIO Liquidity, CIO USA
What happened in liquidity markets in 2018?
2018 has been an eventful year for liquidity markets, which were shaped by interest rate rises in the US, a renewed widening of the LIBOR-OIS spread, money-market fund reform in Europe, and a meaningful shift of assets under management in the US, back towards prime money-market funds (MMF).
As always, short-term interest rates were the key driver for the respective money markets, beginning with the continued increase in the Fed Funds rate by the Federal Open Markets Committee (FOMC). The Federal Reserve remains firmly on the rate hiking path increasing the Fed Funds rate by 0.75% to a range of 2.00 – 2.25% at the time of writing. The UK also increased the Baserate by 0.25%, albeit only once, while softer data in the eurozone pushed out market expectations of a hike by the European Central Bank. Over the year, managing through US rate rises was a key challenge for investors.
In early April, the spread between the USD 3-month LIBOR rate versus the overnight indexed swap rate (OIS) in the US dollar market peaked at nearly 60bps – mainly due to concerns that the repatriation of US multinationals' cash would reduce their demand for money market assets and short-term bonds. Once the market had digested these concerns the spread narrowed, reaching more normalised levels of around 17bps in early October, but it has since widened again, to just over 31bps. However, contrary to what drove the spread-widening in April, we think this autumn's widening is essentially due to the heightened market volatility and the general risk-off sentiment.
Figure 9: USD 3-month LIBOR-OIS spread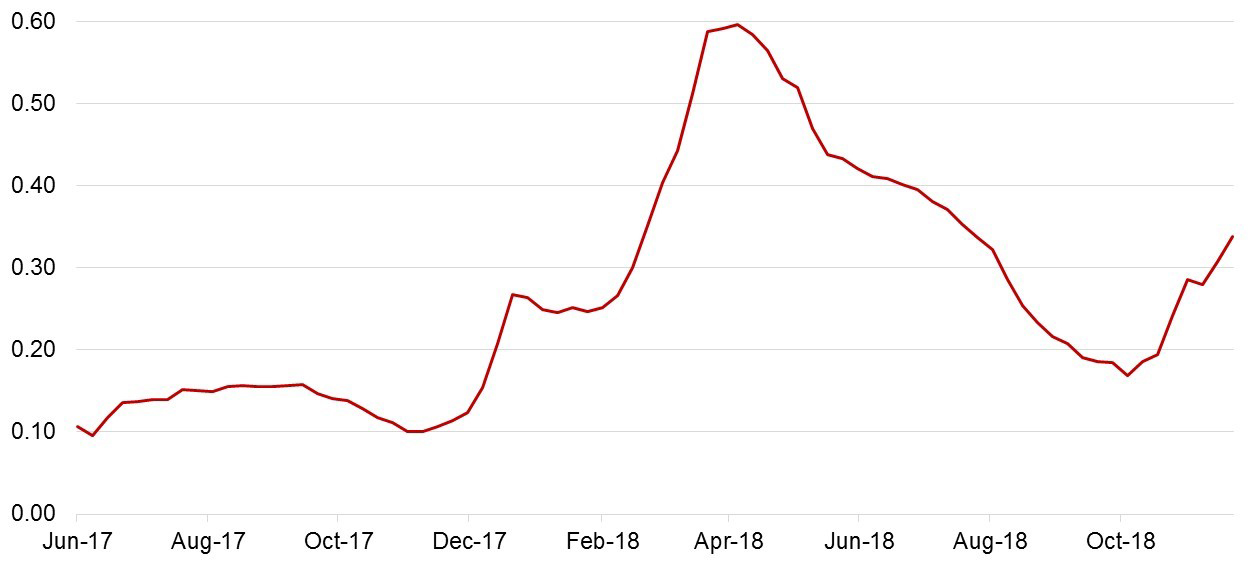 Source: Bloomberg. Data as of 23 November 2018.
How has the industry been preparing for European MMF reform implementation?
MMF reform in Europe has been our third key theme this year, as we approach the deadline for implementation of the new regulation on 21st January 2019. Based on investor feedback, we expect most will invest in the new Low-Volatility NAV (LVNAV) fund format, the primary drivers being that the risk / return profile and the day-to-day operation will remain largely unchanged for investors in LVNAV funds. This means the transition should be very manageable for investors and today's Constant Net Asset Value (CNAV) funds will simply convert into LVNAV funds between December 2018 and mid-January 2019. As such, we do not foresee any large shifts in assets in, or from, the money-market fund industry.
One consideration for investors in euro CNAV MMFs is that the funds will no longer be able to make use of the 'Reverse Distribution Mechanism (RDM)' which was put in place to manage the move to negative interest rates. This will require the new LVNAV funds to adapt to minimise the impact on investors. At this time we are working with regulators alongside the rest of the industry to agree a transitional period to phase out the use of RDM.
Can you tell us about the increase of assets under management in US prime money-market funds?
After US MMF reform came into force on 1st January 2016, we saw a substantial shift in assets from prime money-market funds to US government or US Treasury MMFs. In contrast, 2018 saw a steady rise in assets under management in prime funds as investors became comfortable with the low volatility delivered in the funds' daily NAV, which has increasingly seemed a reasonable price to pay for the additional 20 to 25 basis points of yield these funds deliver.
Figure 10: US Institutional 2a-7 MMF assets under management (USD million)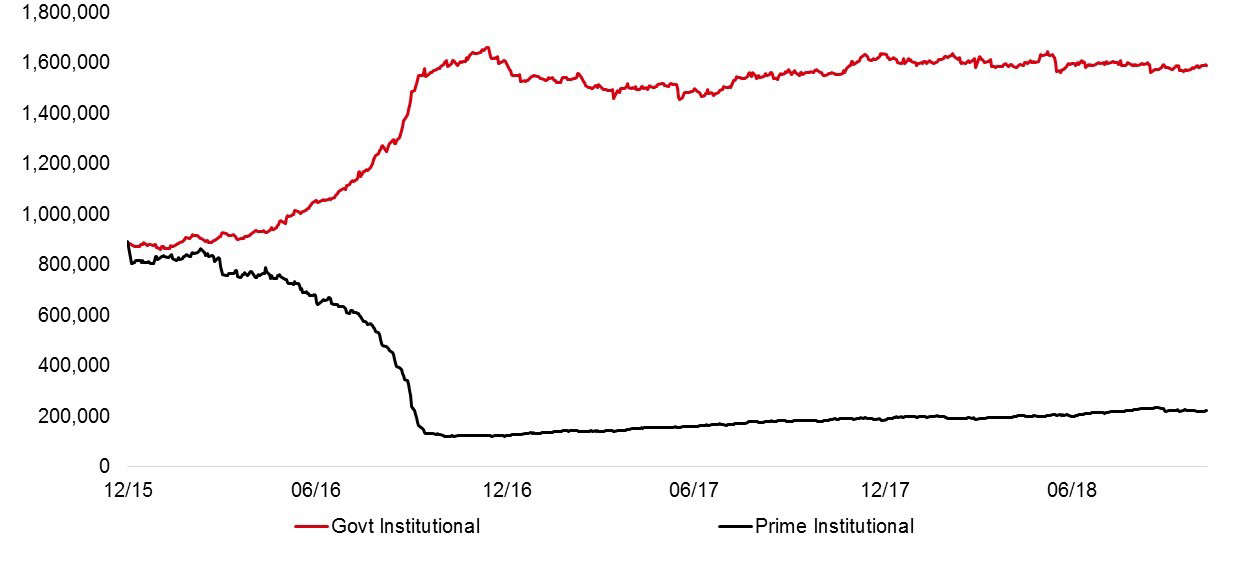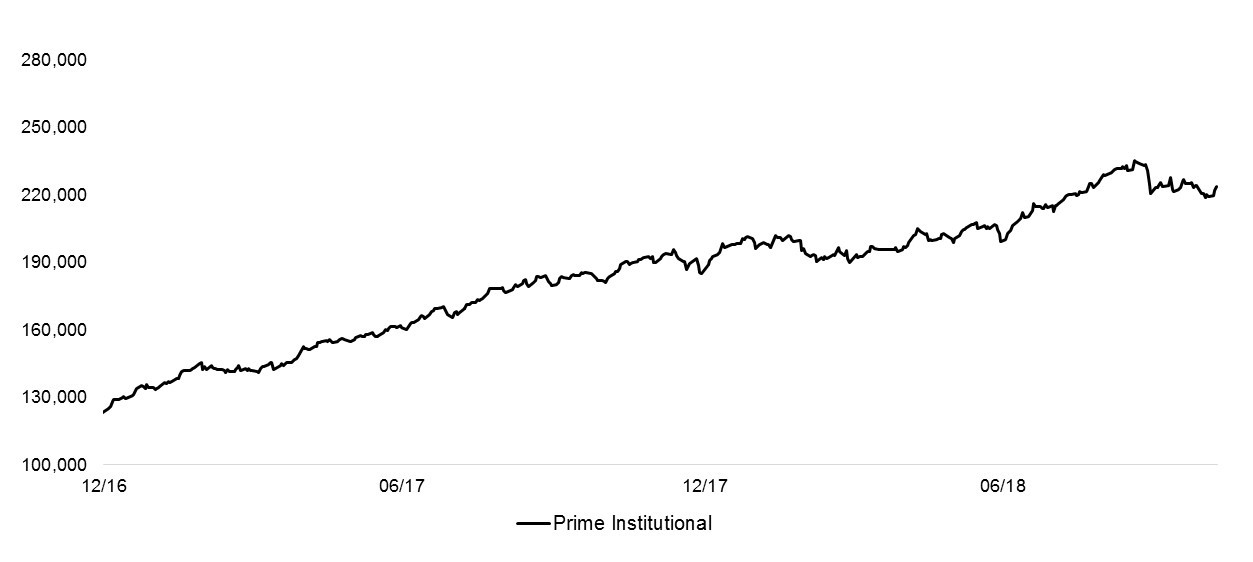 Source: HSBC Global Asset Management. Data as of 31 October 2018.
Assets in prime MMFs still remain significantly lower than before the reform: c. USD220 billion at mid-November 2018, compared to USD800 billion at end-2015. Yet the trend of rising assets under management is very clear, and we expect it to continue in 2019.
Looking ahead, what is your outlook for money markets in 2019?
In the US, we expect the FOMC to further increase the Fed funds rate. We have followed FOMC guidance through this current rate rising cycle and will continue to do so, given how accurate it has been. In contrast, the market continues to estimate a lower magnitude of interest-rate rises than those communicated by the FOMC, which it has consistently done since late 2015: the FOMC dot plot base case is for three 0.25% rate rises in 2019 whilst the market is currently pricing in just a 6% probability of this in 2019.
Meanwhile, the UK faces high levels of Brexit-related uncertainty – and the unknown potential impact of Brexit on short-term interest rate expectations. Sentiment around the direction and magnitude of change over 2019 is very uncertain.
Beyond this, Brexit also raises questions as to its potential impact on the credit rating of sterling MMFs and on continued UK investor access to EU-domiciled funds. Our expectation is that, even with no deal, the short-term impact on sterling funds' credit rating should be low. Both Moody's and S&P currently have a "stable" rating outlook on the major UK banks, predicated on their estimates of a limited economic impact of a no-deal Brexit in the short term. Meanwhile, the UK has established a three-year temporary permission regime due to come into effect on the exit day, to guarantee continued market access over any necessary transition period.
On euro markets, we expect the softening of the eurozone economy to continue into next year, pushing out any possibility of the ECB raising interest rates to late 2019. As long as this plays out, we will favour longer weighted-average maturities.
Finally, given our generally positive view of the global economy for 2019, we think the environment should remain supportive for the high-quality credit relevant to our liquidity strategies. We have a high weighting to the banking sector due to the beta of supply in money-market issuers, and we will continue to maintain a longer weighted-average life across our strategies, to take advantage of any steepness in the money-market curve.
Are there any other themes investors should bear in mind?
Going into 2019, we think regulation will continue to be an important theme. First, after European MMF reform comes into force, despite the limited impact we expect, it will be interesting to observe how the various providers adapt their day-to-day management of money-market funds, and in particular the level of weekly liquidity they maintain. Today, there is limited dispersion in liquidity levels, but this could change after January, leading to an increase in yield variations depending on the strategies adopted. It is a potential impact of MMF reform that is worth monitoring for investors in money-market funds.
Second, we expect the planned transition away from LIBOR to gain more focus next year. Despite the demise of LIBOR being 3 years away – in December 2021 – we expect market participants to 'front run' the implementation date with the LIBOR alternatives quickly gaining importance. The change will impact investors across their money-market strategies, but could affect them more broadly through other investments, from derivatives contracts to longer-term debt. We believe investors should start preparing well ahead of the transition, as we are, for example considering how a term-structure of interest rates will develop, how to avoid economic transfer between parties exposed to the same contract, or the potential resource implications of contract renegotiations and systems developments.
What are the key risks in 2019 for money market investors?
As with other asset classes, the first key risk for money markets in 2019 is faster than expected US inflation leading to a rapid rise in interest rates, as this would be very challenging for money-market investors to manage. US inflation is contained for now, but we need to monitor this closely throughout 2019.
The second central risk is a further deterioration of trade tensions between the US and China causing a sustained slowdown in the Chinese economy, notably through the extention of current tariffs. Whilst markets have already priced in this risk to some degree, a sustained slowdown in China could impact growth and performance in other economies as well. This in turn could lead to a deterioration in investment-grade credit fundamentals.