HSBC Large & Mid Cap Fund
Large and Mid Cap Fund - An open ended equity scheme investing in both large cap and mid cap stocks.
(Formerly known as HSBC Large & Mid Cap Equity Fund. L&T Large & Mid Cap Fund has merged into HSBC Large & Mid Cap Equity Fund and the surviving scheme has been renamed)
Investment Objective
To seek long term capital growth through investments in both large cap and mid cap stocks. However, there is no assurance that the investment objective of the Scheme will be achieved.

Our philosophy
Disciplined investment approach with "fundamental research" as the foundation of our investment decision making process
Focus on companies with an attractive combination of profitability and valuation
Look to own scalable businesses with strong execution capability, proven management track record and strong financials
Our process
Proprietary research drives stock selection:
Our equity investment process comprises three stages – Stock selection, Stock analysis and Portfolio construction
Use a combination of quantitative and qualitative filters to arrive at a list of investable universe of stocks
Evaluate stock ideas on the basis of three key parameters, namely Quality of Business, ESG and Valuation
Portfolio construction is an outcome of the above mentioned investment process and tracked against predefined risk matrix
Why HSBC Large & Mid Cap Fund?
To achieve relatively lower volatility and performance consistency with optimal allocation to large caps
To increase the possibility of alpha generation and accelerated growth with potential of mid caps
A top down and bottom up approach will be used to invest in equity and equity related instruments
True to label fund – The fund will stay true to its objective in keeping with the mandate reposed by the investor whilst investing in the fund
To create a corpus through generating inflation-adjusted returns to cater to long-term goals
HSBC Large & Mid Cap Fund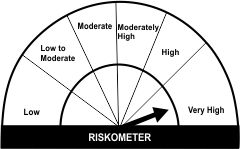 Investors understand that their principal
will be at Very High Risk
Large & Mid Cap Fund - An open ended equity scheme investing in both large cap and mid cap stocks.
This product is suitable for investors who are seeking*:
Long term wealth creation and income
Investment predominantly in equity and equity related securities of Large and Mid cap companies
*Investors should consult their financial advisers if in doubt about whether the product is suitable for them.
Please note that the above risk-o-meter is as per the product labelling of the Scheme available as on the date of this communication/disclosure. As per SEBI circular dated October 5, 2020 on product labelling (as amended from time to time), risk-o-meter will be calculated on a monthly basis based on the risk value of the scheme portfolio based on the methodology specified by SEBI in the above stated circular. The AMC shall disclose the risk-o-meter along with portfolio disclosure for all their schemes on their respective website and on AMFI website within 10 days from the close of each month. Any change in risk-o-meter shall be communicated by way of Notice cum Addendum and by way of an e-mail or SMS to unitholders of that particular Scheme.
Benchmark: NIFTY Large Midcap 250 TRI