HSBC Global Emerging Markets Fund
(an open ended fund of funds scheme investing in HSBC Global Investments Funds - Global Emerging Markets Equity Fund)
Emerging market equities can be an attractive building block in an investment portfolio. Our strategy provides exposure to this asset class where economic development is driven by favourable long-term trends, providing a platform for longer-term corporate profit growth.
Our philosophy
We believe that there is a well-established relationship between profitability and valuation, and that excess market volatility often leads to mispricing of stocks.
Why HSBC Global Emerging Markets Fund?
Active management can add value given inefficiencies within emerging markets
A concentrated and diversified portfolio of our highest conviction investment ideas
Stock selection driven by fundamental research, integrating Environment, Social, Governance (ESG) analysis
Global investment platform interconnected with shared investment philosophy: global perspective and local insights
Proprietary research and decision support tools assist portfolio construction
Our process
Each investment strategy is tailored to capture the essence of its investment opportunity.
This focus naturally defines an investment process that is differentiated by design. Transparency in the investment process and disciplined implementation support investment governance.
With a differentiated investment approach, HSBC strategies can be complementary and provide diversification within an equity allocation.             
Key Risks
Exchange rate risk: Investing in assets denominated in a currency other than that of the investor's own currency perspective exposes the value of the investment to exchange rate fluctuations
Emerging market risk: Emerging economies typically exhibit higher levels of investment risk. Markets are not always well regulated or efficient and investments can be affected by reduced liquidity
Derivative risk: The value of derivative contracts is dependent upon the performance of an underlying asset. A small movement in the value of the underlying can cause a large movement in the value of the derivative. Unlike exchange traded derivatives, over-the-counter (OTC) derivatives have credit risk associated with the counterparty or institution facilitating the trade
Operational risk: The main risks are related to systems and process failures. Investment processes are overseen by independent risk functions which are subject to independent audit and supervised by regulators
This product is suitable for investors who are seeking*:
To create wealth over long term
Investment predominantly in units of HSBC Global Investment Funds - Global Emerging Markets Equity Fund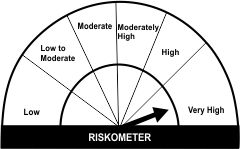 Investors understand that their principal
will be at Very High Risk
*Investors should consult their financial advisers if in doubt about whether the product is suitable for them.