HSBC Focused Equity Fund
(Focused Fund - An open ended equity scheme investing in maximum 30 stocks across market caps (i.e. Multi Cap))
HSBC Focused Equity Fund aims to generate long term capital growth through investments in a "Concentrated portfolio" of equity & equity related instruments of up to 30 companies across market capitalization.

Our philosophy
Focus on companies with an attractive combination of profitability and valuation
Active investment opportunity supported by proprietary fundamental research
Strict valuation discipline and long-term investment horizon approach
Our process
Proprietary fundamental research drives stock selection:
Evaluate investment case based on sustainable profitability
Analysis of drivers of profitability and what is discounted in the valuation
Benefits from global investment network and research sharing platform
Why HSBC Focused Equity Fund?
To seek growth and deliver above benchmark returns by providing long-term capital growth from an actively managed portfolio comprising of up to 30 companies across market capitalization (i.e. Multi Caps)
Top down and bottom up approach will be used to invest in equity and equity related instruments
Investments will be based on the Investment Team's analysis of business cycles, regulatory reforms, competitive advantages and more
True to label fund – The fund will stay true to its objective in keeping with the mandate reposed by the investor whilst investing in the fund
To create a corpus through generating inflation-adjusted returns to cater to long-term goals
HSBC Focused Equity Fund
(Focused Fund - An open ended equity scheme investing in maximum 30 stocks across market caps (i.e. Multi cap))
This product is suitable for investors who are seeking*:
Long term wealth creation
Investment in equity and equity related securities across market capitalization in maximum 30 stocks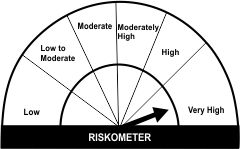 Investors understand that their principal
will be at Very High Risk
*Investors should consult their financial advisers if in doubt about whether the product is suitable for them.